TL;DR
This is an 18-page fullscreen slideshow of map routes and quest points to complete the game to unlock game modes.

The name is a bit awkward, so I just call it the SQR Route (square route).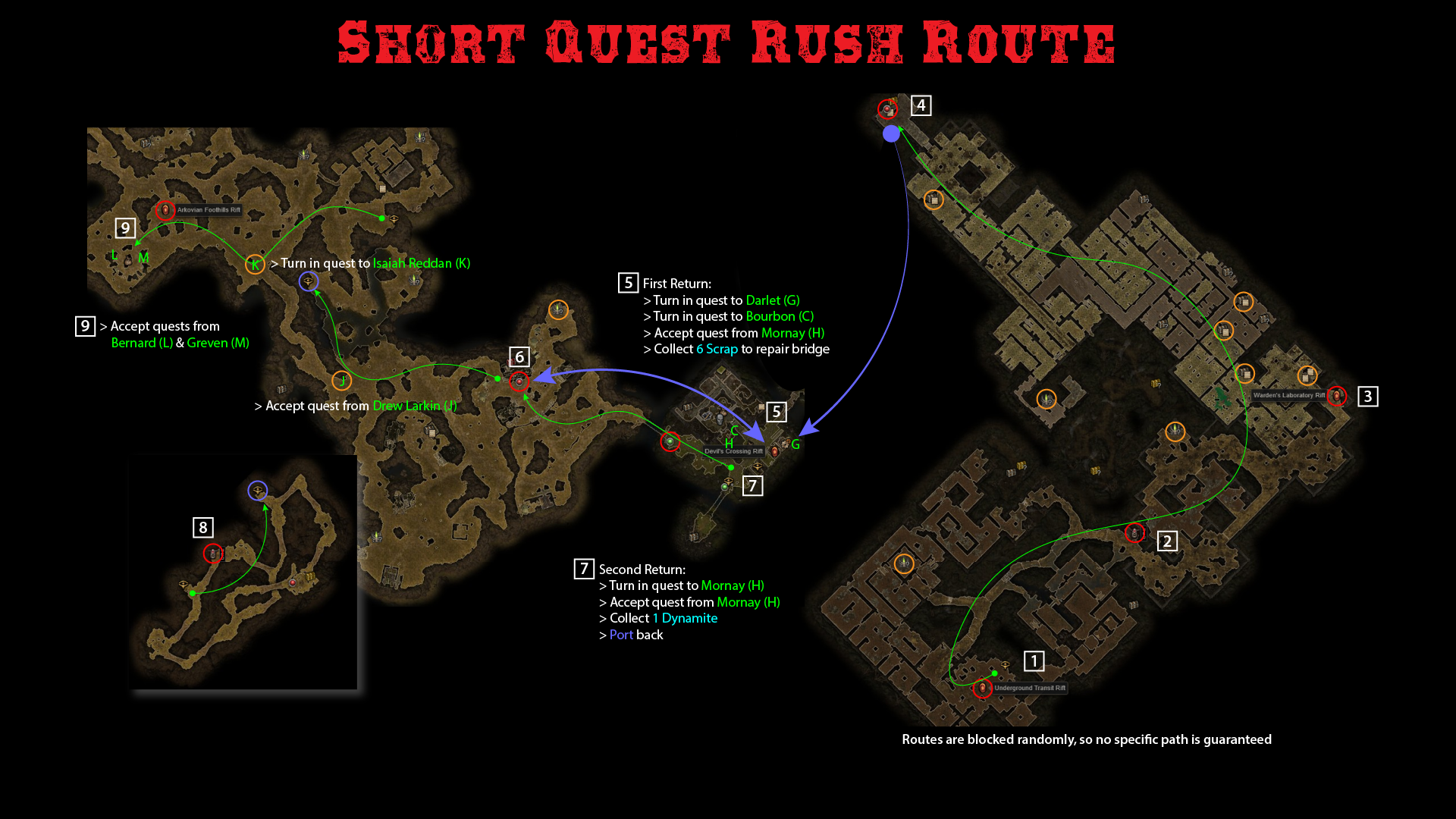 _



Slideshow Link
Short Quest Rush Route – [google.com]

Click [Start Slideshow] in the upper right corner to launch it
Hit space to advance to the next route
Use arrow keys to go back and forth

_



Why
I like to try new builds, and after attempting to get my 4th alt to rush through Normal+, I realized I needed a better, more concise way to do it. Also, I tend to hop around to other games, so I'd often forget the fastest way to get through the content without missing key objectives.


I tried to find an existing guide online that would work, but most of them were either very wordy or a lengthy YouTube video.


So I created this slideshow to run on a second monitor while I rushed through to Ultimate. Run the slideshow and hit space whenever you're ready for the next route.


_



Grim Tools
This guide was created using the maps at Grim Tools (https://www.grimtools.com – [grimtools.com] ). If you haven't checked them out before, you really should.


At this point they should be on the Crate Entertainment payroll, if they aren't already.


_



P.S.
I am by no means an expert at Grim Dawn, so there are likely things that you will spot that might need to be changed or added. I'm open to making minor changes, so feel free to let me know what you find.


This "guide" isn't really for brand new players, it kind of relies on you having at least a small pool of resources to draw from to increase route efficiency. You'll also notice that some of the route pages seem a bit congested. Just remember to focus on the Step numbers, they'll help you get through the routes.


One final thing, feel free to copy the slideshow to your own Drive to ensure you always have it.


Enjoy!


_




This is all we can share for My Short Quest Rush Route Slideshow – Grim Dawn for today. I hope you enjoy the guide! If you have anything to add to this guide or we forget something please let us know via comment! We check each comment! Don't forget to check SteamClue.com for MORE!